Current research collaborators
Peter Maddison Rheumatology Centre, Llandudno, Wales, Betsi Cadwaldr University Health Board (BCUHB):
Prof Peter Maddison (Professor Emeritus and Rheumatologist)
Peter was appointed Professor of Musculoskeletal Medicine in the School of Medical Sciences, Bangor University and Honorary Consultant Rheumatologist to the North West Wales NHS Trust in 2006. Since 2009 he has been Director of the Bangor Institute for Clinical and Translational Research. Since 1996, Peter was Consultant Rheumatologist to the North West Wales NHS Trust and Professor of Musculoskeletal Medicine in the School of Sport, Health and Exercise Sciences at Bangor University. Peter is the clinical supervisor for the Diagnostic Autoimmunity Service at Ysbyty Gwynedd and Professor Emeritus at Bangor University.
A graduate of Cambridge University, Peter worked for several years as a clinical immunologist in the USA, working with Professor Morris Reichlin on the clinical significance of anti-"ENA" antibodies, before returning to the UK in 1979 as Consultant Rheumatologist at the Royal National Hospital for Rheumatic Diseases, Bath. He later became the first GlaxoWellcome Professor of Bone and Joint Medicine at the University of Bath until his move to North Wales. In July 2013, a new rheumatology centre at Llandudno hospital opened and named the "Peter Maddison Rheumatology Centre" in honour of his continued work in the region.

He was an editor for the Oxford Textbook of Rheumatology, until its third edition.
Email: p.maddison@bangor.ac.uk
Staff page: http://www.bangor.ac.uk/sms/staff/pmaddison
Dr Yasmeen Ahmad (Consultant rheumatologist)
Consultant rheumatologist at PMRC
Dr Jeremy Jones (Honorary Research Fellow and Consultant rheumatologist)
Jeremy Jones, a South Walian, qualified from St Marys Hospital in London many moons ago and did his rheumatology training at Guys and Kings College Hospitals. He spent a year at Addenbrookes Hospital in Cambridge as an ARC Research Fellow. His MD thesis was on the clinical aspects of polymyalgia rheumatica and giant cell arteritis.
In 1984 he took up the position of clinical director at Queen Elizabeth Hospital in Rotorua, New Zealand. In his 20 years there he filled a number of management and directorial positions, as well as serving as the President of The New Zealand Rheumatology Association and Chairman of the NZ of the NZ Royal Australasian College of Physicians Special Societies Board. While in Rotorua he specialised in general rheumatology, balneotherapy and musculoskeletal rehabilitation especially chronic back pain. He qualified as a Fellow of the Australasian Faculty of Rehabilitation Medicine.
In 2002 he returned to UK taking up the positions of Consultant Rheumatologist at Ysbyty Gwynedd and Senior Clinical Lecturer at the School of Sport, Health and Exercises Sciences (SSHES) at Bangor University. He was instrumental in establishing the TEAMS (now CMATS) system of managing all musculoskeletal referrals and is clinical lead for CMATS (west). He also has interests in gout and fibromyalgia. At the University he established a third year BSC module in disability, sport and rehab and an MSc module in exercise rehabilitation.
He presently holds the position of Honorary Research Fellow at SSHES. Research interests include the delivery of health care, fibromyalgia and exercise. 
Email:
Staff page: http://www.bangor.ac.uk/sport/staff-jj.php
Dr Thomas O'Brien (Lecturer in Musculoskeletal Biomechanics)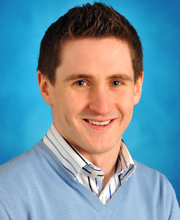 My interest in research started during my undergraduate degree in Sport Science at Brunel and my master's degree in biomechanics at Loughborough. I then completed my PhD at Manchester Metropolitan University where my passion for translational (fundamental and clinical) research developed. Having held previous academic appointments at other institutions, I moved to Liverpool John Moore's University in January 2013 and now contribute to teaching on undergraduate and post graduate modules and work on and lead numerous research projects investigating musculoskeletal function and health.
My research interests are in musculoskeletal function and health, with a particular focus in paediatric research. This work examines how biological processes, like maturation and ageing, or medical conditions, e.g., rheumatoid arthritis and cerebral palsy, alter the function of the musculoskeletal system, and how these adaptations impact on whole body function, mobility, quality of life, and health and fitness.
Email: T.D.OBrien@ljmu.ac.uk
Dr Thomas Wilkinson
Tom currently works with the Leicester Kidney Exercise Team, Leicester General Hospital and in the Department of Infection, Immunity, and Inflammation, University of Leicester.
Tom completed his PhD student at SSHES supervised by Dr Thomas O'Brien and Prof. Andrew Lemmey. He completed his Sport and Exercise Sciences undergraduate degree at the University of Birmingham and after graduating in July 2012 began his PhD in Bangor.
His PhD research is looking at the prevalence, treatment and causes of rheumatoid cachexia; the muscle wasting associated with rheumatoid arthritis (RA). The research currently is investigating the prevalence and time course of RA, and the changes in body composition in these patients as well as the biochemical and pathophysiological changes that occur. The other aspect of his thesis looking at a potential treatment for cachexia and physical function in RA through a nutritional supplement protein called creatine. Tom also helps promote the school through secondary school and A-level workshops and visit days, and currently is involved in teaching the Year 1 Biomechanics and Year 2 Physiological Assessment modules in SSHES.
Dr Sarang Chitale (Consultant rheumatologist)
Consultant rheumatologist at PMRC
Dr Fazal Sheik (Rheumatologist registrar)
Rheumatology registrar and recipient of WARN "Specialist Registrar Development Programme"
Other research collaborators
Dr Mahdi Jibani, Renal Unit, Ysbyty Gwynedd, BCUHB
Mr Glynne Andrew, Dept. of Surgery, Ysbyty Gwynedd BCUHB
Dr Jeanette Thom, University of New South Wales, Australia
Dr Jamie Macdonald, SSHES, Bangor University
Dr Nefyn Williams, NWORTH, Bangor University; School of Medicine, Cardiff University
Prof Claire Stewart, Liverpool John Moores University
Students
PhD students (completed): Prof Samuele Marcora, Dr Jamie Macdonald, Dr Verena Matschke, Dr Francesco Casanova, Dr Sally Wilson, Dr Becky Law, Dr Jennifer Cooney, Dr Naushad Junglee, Dr Tosan Okoro
MRes students (completed): Kath Chester, Rebecca Clayton
PhD student (current): Tom Wilkinson